Pumpkin Pie
It's a classic fall dessert for a reason!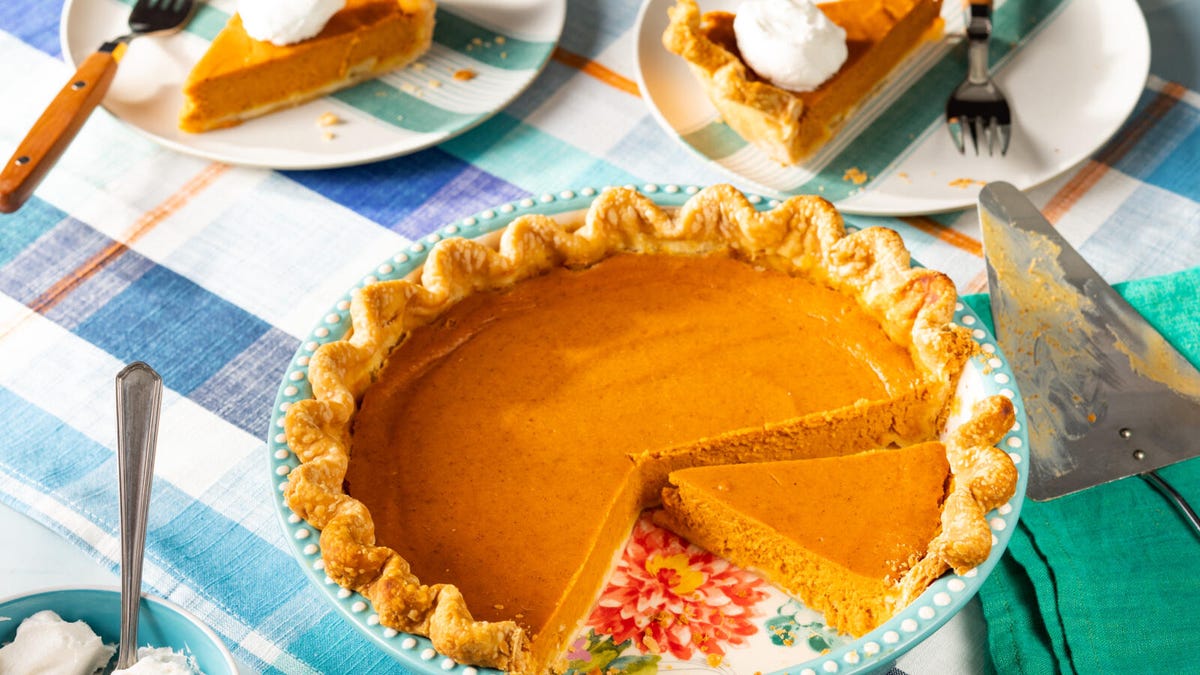 It's an indisputable fact that everyone needs a reliable pumpkin pie recipe, whether planning for Thanksgiving or not. Pumpkin cheesecake and pumpkin trifle make impressive centerpieces, but a Thanksgiving dessert spread wouldn't quite feel complete without this traditional treat. This version results in the silkiest, creamiest filling, while keeping a flaky, crispy crust (even on the bottom). Serve it with vanilla whipped cream for the ultimate finish on turkey day!

Should I pre-bake my pumpkin pie crust?

Many pie recipes don't require parbaking the crust, such as the famous recipe on the can of Libby's pumpkin puree. However, like a chess pie or buttermilk pie, we found that pre-baking the crust, first with pie weights, then without, yielded a crispier crust all around. The flaky crust made the perfect compliment to the dreamy pumpkin custard-like filling. 
Does pumpkin pie need to be refrigerated?
Pies containing eggs and dairy products (like milk or cream) should always be stored in the refrigerator. As soon as the pumpkin pie cools completely, cover it with plastic wrap and refrigerate it until it is time to serve. 
What is in pumpkin pie spice?
Don't worry if you don't have pumpkin pie spice in your spice cabinet—all of the spices in this blend are probably on your spice rack. Pumpkin pie spice is made by mixing cinnamon, ginger, nutmeg, allspice, and ground cloves. For ingredient amounts, reference this five-minute, five-ingredient DIY pumpkin pie spice recipe. 
How do I tell if my pumpkin pie is done?
In most cases, the jiggle test is the best way to see if a pumpkin pie has finished baking. Near the end of the bake time, put on a pair of oven mitts and give the pie plate a very gentle shake. A finished pumpkin pie should have set, puffed edges and jiggle slightly in the center (and there should not be a big, liquid-y movement). At this point, remove the pie from the oven and place it on a wire rack to cool. If a crack forms in the top of the pie, it means it has baked too long. Next time, take it out of the oven a bit sooner.
What is the best pie plate for pumpkin pie?
For this recipe, be sure to use a pie plate that is at least 1.5-inches deep, or else you'll have too much pumpkin pie filling on your hands. 
Advertisement - Continue Reading Below
Yields:

8 - 10

serving(s)

Total Time:

2

hrs

50

mins
Ingredients
For the Crust:
1

unbaked pie crust (store-bought or homemade)
For the Filling:
1

15 oz. can pumpkin puree

1 1/4 c.

heavy whipping cream

1/2 c.

granulated sugar

1/4 c.

packed light brown sugar

2 tsp.

pumpkin pie spice

1 tsp.

vanilla extract

1/2 tsp.

kosher salt

2

large eggs

1

large egg yolk
Nutrition Information
Per Serving (Serves 10)

Calories

299

Fat

18 g

Saturated fat

10 g

Trans fat

0 g

Cholesterol

89 mg

Sodium

215 mg

Carbohydrates

30 g

Fiber

2 g

Sugar

18 g

Protein

4 g

Vitamin D

1 mcg

Calcium

48 mg

Iron

1 mg

Potassium

159 mg
Directions
Step 

1

For the crust: On a lightly floured surface, roll the pie dough into a 13-inch round. Transfer the crust to a 9-inch pie plate that is at least 1 1/2 inches deep. Tuck the edges of the crust under to be even with the edge of the pie plate and crimp. Prick the surface of the crust all over with a fork and place the crust in the refrigerator for 60 minutes (or freezer for 30 minutes). Preheat the oven to 400˚. Line the inside of the crust with parchment paper, then fill to the top with baking weights or dried beans.

Step 

2

Bake the pie crust for 13 to 15 minutes, until the edges look dry and just begin to take on a bit of color. Remove your crust from the oven and then, carefully remove the parchment paper and pie weights. (Place the pie weights into a bowl to cool off.) Return the crust to the oven and bake for another 4 to 6 minutes, just until the bottom of the crust appears dry. Reduce the oven temperature to 350°.

Step 

3

For the filling: Whisk well to combine the pumpkin, cream, granulated and light brown sugars. Whisk in the pumpkin pie spice, vanilla, salt, eggs, and egg yolk until thoroughly combined.

Step 

4

Pour the filling into the pie crust and place on a baking sheet. Bake 55 to 60 minutes, until set around the edges and the center jiggles just slightly. Cool completely on a wire rack. Serve immediately with whipped cream or refrigerate. 
Tip: For the perfect slice, refrigerate the pie for 2 hours (up to 24 hours) before serving.