Coconut Shrimp
Sweet dipping sauce is always a bonus!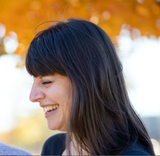 By Erin Merhar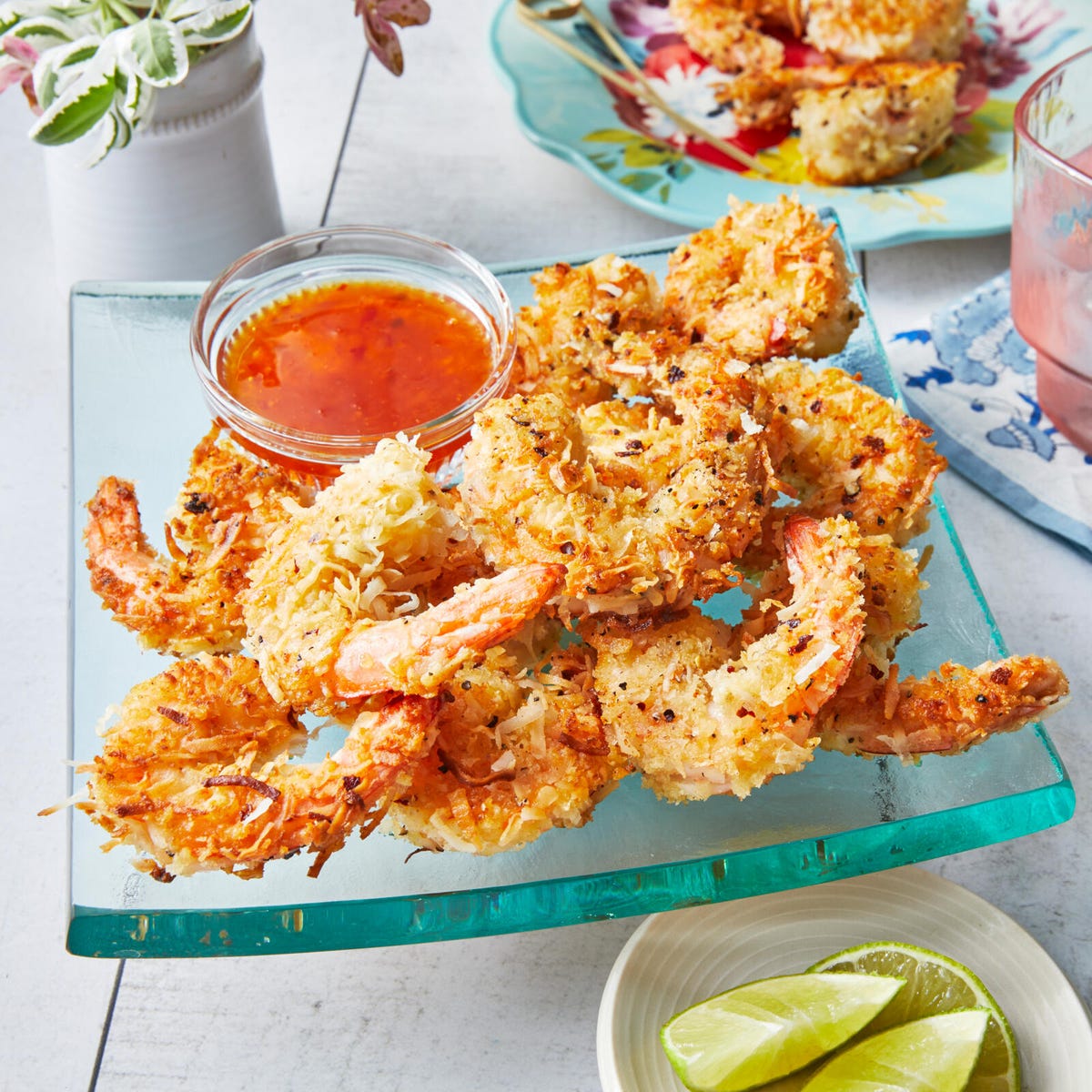 Caitlin Bensel
Coconut shrimp will transport you to the tropics via this fun finger food! It starts with a classic breading of flour, eggs and milk, and panko breadcrumbs, but takes a twist with the addition of unsweetened shredded coconut. While you can fry these in only vegetable oil, the addition of a scoop of coconut oil adds extra coconut-y flavor. It's the perfect crispy, salty, tangy starter for any Christmas dinner menu!
What is coconut shrimp made of?
Start with tail-on, jumbo shrimp, so that your guests have a little something to hold onto when they take their first crunchy bite. This shrimp recipe follows a standard three-step breading process: first, dredging the shrimp in flour, then dipping in a mixture of eggs and milk, before coating in a breading of mostly coconut shreds and a little bit of panko breadcrumbs. Shallow fry the shrimp in batches in a mix of coconut and vegetable oil, and serve with a dipping sauce made of orange marmalade, Thai sweet chili sauce, and soy sauce, and lime juice. It's like your favorite shrimp cocktail, but better!
How long does it take to cook shrimp?
Shrimp do cook quickly and this recipe is no exception. Heat the oil to 350° and use a thermometer to ensure the oil isn't too hot (which will burn the breading and dry out the shrimp!) At this temperature, the shrimp will take between 30 to 60 seconds per side to get golden brown on the outside, but stay juicy on the inside. You'll know the shrimp are cooked when they firm up and curl into a loose "C" shape. If they've gone past the letter "C" and look like a small, tight letter "O" then it's definitely time to pull them! They might be slightly overcooked.
How do you devein shrimp?
Purchase the shrimp already peeled and deveined (but look for shrimp with the tail left on!) Or, peel the shell off first. Then, cut a small slit along the back curve of the shrimp. Either rinse away the dark, gritty vein with cold water, or wipe clean with a paper towel. If rinsing, just be sure to pat the shrimp very dry before breading, so that only a thin, light coating of flour sticks.
Advertisement - Continue Reading Below
Ingredients
For the Shrimp:
1 1/2 lb.

jumbo shrimp (21 to 25 count)

3/4 c.

all-purpose flour

1

egg

1/3 c.

milk

1 c.

shredded unsweetened coconut

1/2 c.

panko breadcrumbs

1 tsp.

kosher salt

1/4 tsp.

ground black pepper

1/4 tsp.

red chili flakes

1/2 c.

coconut oil

Vegetable oil, for frying

Lime wedges, for serving, optional
For the Dipping Sauce:
1/4 c.

orange or peach marmalade

1/4 c.

Thai sweet chili sauce

1 tbsp.

lime juice

1 1/2 tsp.

soy sauce
Directions
Step 

1

For the shrimp: Peel the shrimp, leaving the tail on. Cut a shallow slit along the back, curved edge of the shrimp. Wipe or rinse away the vein. Place on a paper towel lined plate and pat very dry. Refrigerate until ready to use. 

Step 

2

Meanwhile, place the flour on a plate. Whisk together the eggs and milk in a wide shallow bowl. Combine the coconut, panko, salt, pepper, and red chili flakes in another wide, shallow bowl. Working 3 to 4 pieces of shrimp at a time, dredge in the flour to coat completely, dip in the egg mixture, then coat in the coconut mixture. Set aside in a single layer on a sheet tray.

Step 

3

Meanwhile, heat a large skillet filled with the coconut oil and vegetable oil to be about about 1/4-inch over medium-high until very hot (about 350 degrees). Place half of the shrimp in a single layer and cook until golden brown on one side, 30 to 60 seconds. Flip and cook for 30 to 60 more seconds, until the shrimp curves into a C-shape. Remove from the oil and transfer to a paper towel lined plate. Repeat with the remaining shrimp.

Step 

4

For the sauce: Whisk together marmalade, chili sauce, lime juice, and soy sauce in a small bowl.

Step 

5

Serve shrimp warm with the dipping sauce, and lime wedges, if you like.
This serves 4 people as an entrée, or up to 8 people as an appetizer.