Bacon Ranch Pasta Salad
Be the star of the potluck!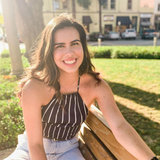 By Leah Perez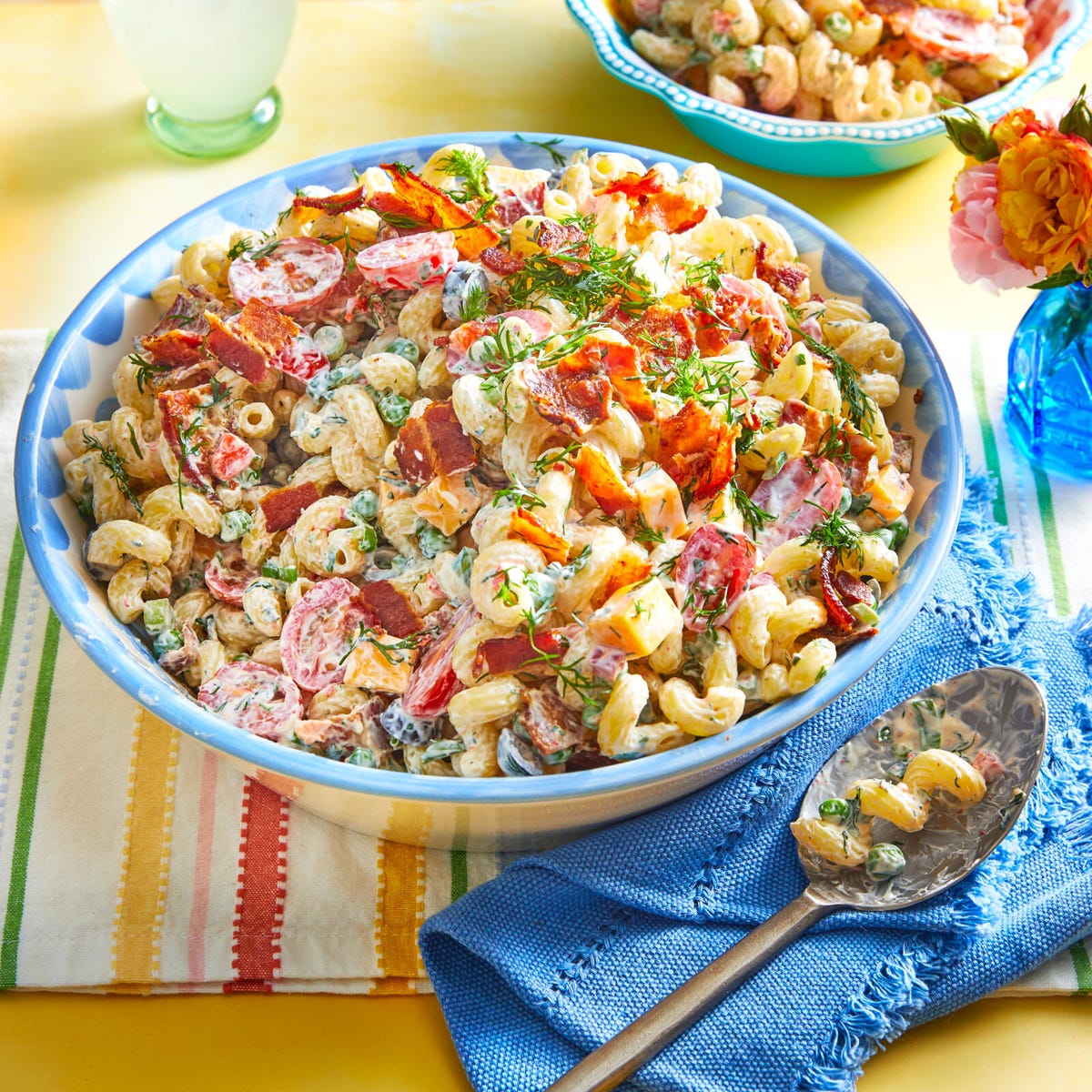 Caitlin Bensel
Be the star of the potluck with this bacon ranch pasta salad! The combination of crispy bacon, creamy ranch dressing, and juicy tomatoes makes this pasta salad the ultimate crowd-pleaser. Thanks to the fresh herbs in the delicious homemade dressing, this bbq side dish is a lively introduction to spring.
What's in bacon ranch pasta salad?
Honest-to-goodness made-from-scratch ranch dressing holds this whole salad together. It might be tempting to reach for a green and white packet (it is still a great option!), but the reward of a homemade dressing is so worth it. A tantalizing dash of salt is provided by cubed cheddar, olives, and crumbled bacon. Refreshing ingredients like cherry tomatoes, peas, and plenty of herbs add juiciness, crunch, and a bright finish. 
What pasta is good in bacon ranch pasta salad?
Pasta shapes with lots of ridges, swirls, nooks, and crannies for ingredients to get curled up in are perfect for this recipe. Cavatappi is an excellent option, while rotini, elbow macaroni, and shells are classic. Take a gander at the pasta section at the grocery store; there is bound to be a fun shape for this salad!
How do you make pasta salad not dry?
This is a common conundrum with cold pasta salad, especially if it is made ahead. Trying to wedge a spoon into a chilled, solid mass of pasta is totally avoidable with this tip! Set aside every bit of advice to always cook pasta al dente and let those noodles swim in the boiling water for just 1 minute longer than the package directions. Because this pasta is not being finished in a pan of silky sauce, parched al dente pasta ends up soaking up too much dressing as it sits in the refrigerator. Soft, well-done noodles will have a nice chew while still being blanketed in ranch. And isn't that the dream?
Can bacon ranch pasta salad be made ahead of time?
Pasta salad is a perfect candidate for being made ahead of time. This pasta salad stores very well in the refrigerator for up to 24 hours. If making it the day before, keep the bacon on the side until ready to serve (this ensures the bacon stays crispy.) Have some milk or buttermilk on hand to moisten the pasta salad before scooping.
Advertisement - Continue Reading Below
Yields:

8 - 10

serving(s)
Ingredients
1

12 oz. package bacon

1 lb.

cavatappi pasta

1/2 c.

mayonnaise

1/2 c.

sour cream

1/2 c.

buttermilk

1/4 c.

flat-leaf parsley, chopped

1/4 c.

fresh dill, chopped, plus more for garnish

1 1/2 tbsp.

fresh lemon juice

1

garlic clove, grated

2 tsp.

kosher salt, plus more to taste

1 tsp.

ground black pepper, plus more to taste

1 pt.

grape tomatoes, halved

6 oz.

sharp cheddar cheese, cut into 1/2-inch cubes

1 c.

frozen peas, thawed

1

4-oz container pimentos, drained

1

3.8-oz can sliced black olives, drained

4

green onions, thinly sliced
Directions
Step 

1

Bring a large pot water to a boil over high heat. Season generously with salt. 

Step 

2

Cook the bacon in a large skillet over medium heat, turning as needed, until the fat has rendered and the bacon is golden and crispy, 8 to 10 minutes. (You may need to cook the bacon in two batches, draining the rendered fat from the skillet between batches.) Let the bacon cool to room temperature, then crumble up into bite-sized pieces.

Step 

3

Cook the pasta one minute more than package directions. Drain, rinse with cold water, and let cool.

Step 

4

Meanwhile, in a large bowl, combine the mayonnaise, sour cream, buttermilk, parsley, dill, lemon juice, garlic, 2 teaspoons of salt, and 1 teaspoon of pepper. Add the pasta, tomatoes, cheese, peas, pimentos, olives, green onion, and half of the bacon, and toss until well combined. Season salad with salt and pepper, to taste. Top salad with the remaining bacon and more dill and serve. 
Tip: Save the bacon grease for roasted vegetables or cornbread!