Homemade Pizza Sauce
It's just as easy as opening a jar!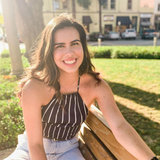 By Leah Perez
Making this pizza sauce is almost as easy as opening a jar, and it's so much more delicious than anything you can buy! It's reminiscent of that classic "by-the-slice" flavor. Just stir together a can of crushed tomatoes, olive oil, grated garlic, balsamic vinegar, and seasonings. No need for any sugar—the natural sweetness of the tomatoes and the balsamic vinegar add just the right balance of flavor. Simplicity at its finest! Stir any extra sauce into pasta bakes, dunk mozzarella sticks in it, or freeze it for future pizza pies.
What is the difference between pizza sauce and marinara sauce?
Marinara sauce, also known as red sauce, is a tomato-based sauce that's simmered for a long time to deepen the rich flavor and to thicken it so it will cling to pasta. Generally, pizza sauce does not require any prior cooking: It just heats up on the surface of the dough. The slightly thinner sauce is easy to spread in an even layer over pizza dough, and it's very lightly seasoned so it won't overpower the other ingredients. 
Can homemade pizza sauce be made ahead?
This tomato sauce can be stirred together and stored in an airtight container for up to 3 days. After that, the raw garlic becomes too potent. Think of this sauce as more of a marinade for the tomatoes; it shouldn't sit for too long!
Advertisement - Continue Reading Below
Ingredients
1

28-ounce can crushed tomatoes

1 tbsp.

olive oil

3

cloves garlic, grated

1 tsp.

kosher salt

2 tsp.

balsamic vinegar

1 tsp.

Italian seasoning

1/2 tsp.

ground black pepper

1/4 tsp.

red pepper flakes
Nutrition Information
Per Cup

Calories

134

Fat

5 g

Saturated fat

1 g

Trans fat

0 g

Cholesterol

0 mg

Sodium

643 mg

Carbohydrates

16 g

Fiber

5 g

Sugar

12 g

Protein

5 g

Vitamin D

0 mcg

Calcium

105 mg

Iron

4 mg

Potassium

800 mg
Directions
Step 

1

In a medium bowl, stir together the crushed tomatoes, olive oil, garlic, salt, vinegar, Italian seasoning, black pepper, and red pepper flakes until well combined. Refrigerate until ready to use.