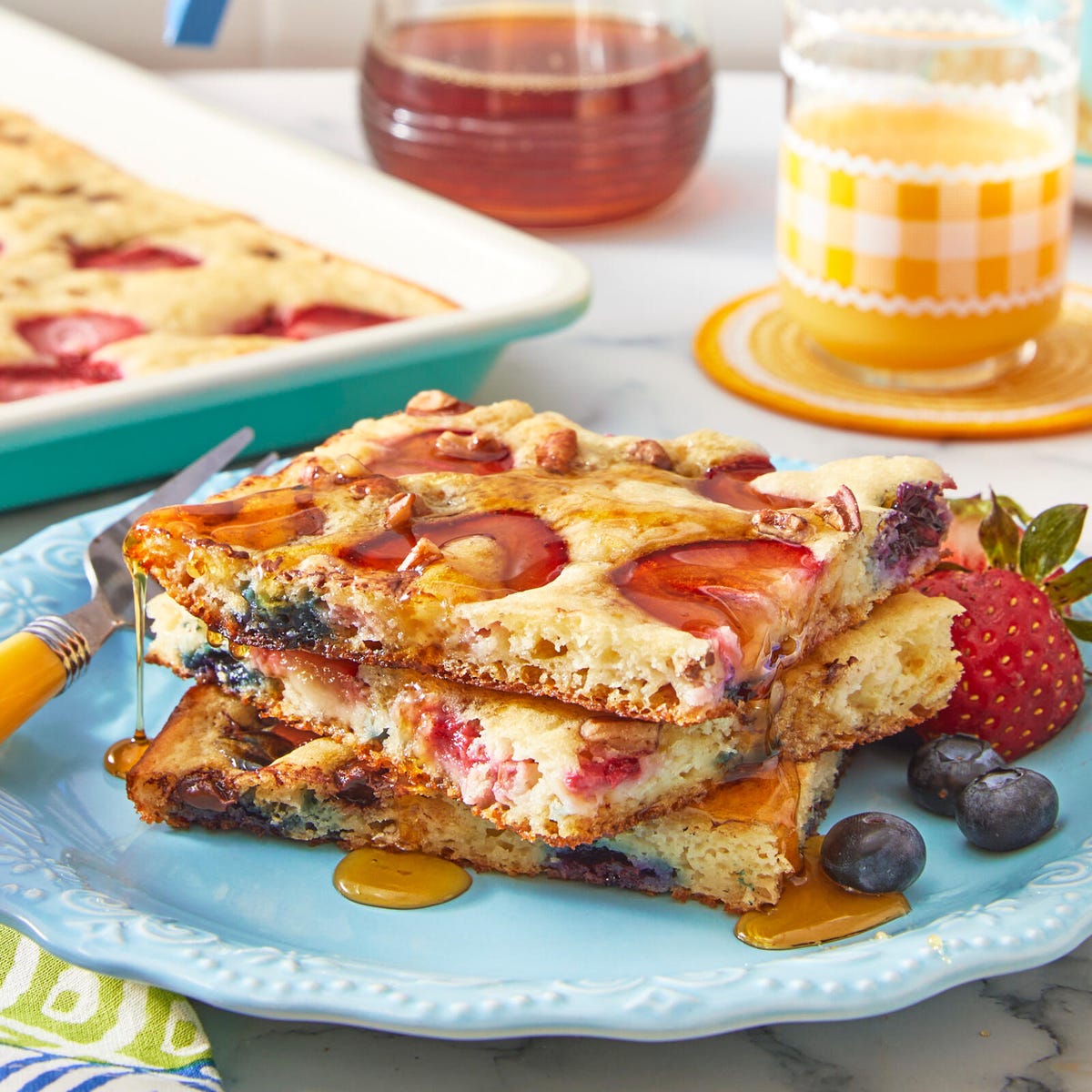 Caitlin Bensel
Skip the endless fussing over a griddle and get a tall stack of perfectly golden flapjacks with these easy sheet pan pancakes. Even an avid home cook like Ree Drummond gives herself permission to chill and take some shortcuts, "to strike a balance between home cooking and convenience cooking." Just whisk up the batter and pour it into a pan! Plus, they are super easy to customize entire sections of toppings with picky eaters in mind. Bake up some breakfast sausage or bacon, take a sip of perfect iced coffee, and enjoy a fabulous hot pancake breakfast without having to turn on the stove.
What do you serve with sheet pan pancakes?
Any toppings that could go on regular pancakes are fair game here. From classic maple syrup to rich nutella, there is really no wrong way to eat a pancake. Set out fresh fruit, butter, sweetened whipped cream, powdered sugar, jam, peanut butter, or anything else that sounds scrumptious.
Can you make sheet pan pancakes a day before?
Much like regular pancakes, these sheet pan beauties are best when they're hot and fresh. To speed up the morning prep, combine the dry and wet ingredients separately the night before and measure and slice any desired toppings. In the morning, simply heat the oven, whisk up the batter and relax. To reheat any leftover pancakes, place them in a 350 degree oven, covered in foil, until warmed through, 5 to 10 minutes. Brush the warm cakes with extra butter because you deserve it.
Advertisement - Continue Reading Below
Yields:

10 - 12

serving(s)
Ingredients
2 1/4 c.

all-purpose flour

1/4 c.

granulated sugar

1 tbsp.

baking powder

1 tsp.

baking soda

3/4 tsp.

kosher salt

2 1/4 c.

whole buttermilk, room temperature

2

large eggs, room temperature

1/2 c.

unsalted butter, melted and divided, plus more for serving

1 tsp.

vanilla extract

1/2 c.

blueberries

1/2 c.

sliced strawberries

1/2 c.

semisweet chocolate chips

1/2 c.

chopped pecans

Maple syrup, to serve
Nutrition Information
Per Serving (Serves 12)

Calories

283

Fat

16 g

Saturated fat

8 g

Trans fat

0 g

Cholesterol

56 mg

Sodium

275 mg

Carbohydrates

30 g

Fiber

2 g

Sugar

12 g

Protein

6 g

Vitamin D

1 mcg

Calcium

155 mg

Iron

2 mg

Potassium

162 mg
Directions
Step 

1

Preheat the oven to 425°F.

Step 

2

In a large bowl, stir together the flour, sugar, baking powder, baking soda, and salt. In a medium bowl, whisk together the buttermilk and eggs. Add the buttermilk mixture to the flour mixture, along with 4 tablespoons of the melted butter and the vanilla. Stir the batter together until just combined.

Step 

3

Brush an 18-by-13-inch sheet pan with 2 tablespoons of the melted butter, then pour in the pancake batter. Sprinkle the batter with the blueberries, strawberries, chocolate chips, and pecans, as desired.

Step 

4

Bake until golden, 15 to 18 minutes. Brush the remaining 2 tablespoons of melted butter over the surface of the pancake.

Step 

5

Cut into squares and serve with more butter and maple syrup.