Cowboy Cookies
Loaded with mix-ins and plenty of chocolate!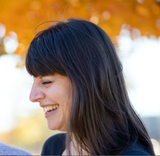 By Erin Merhar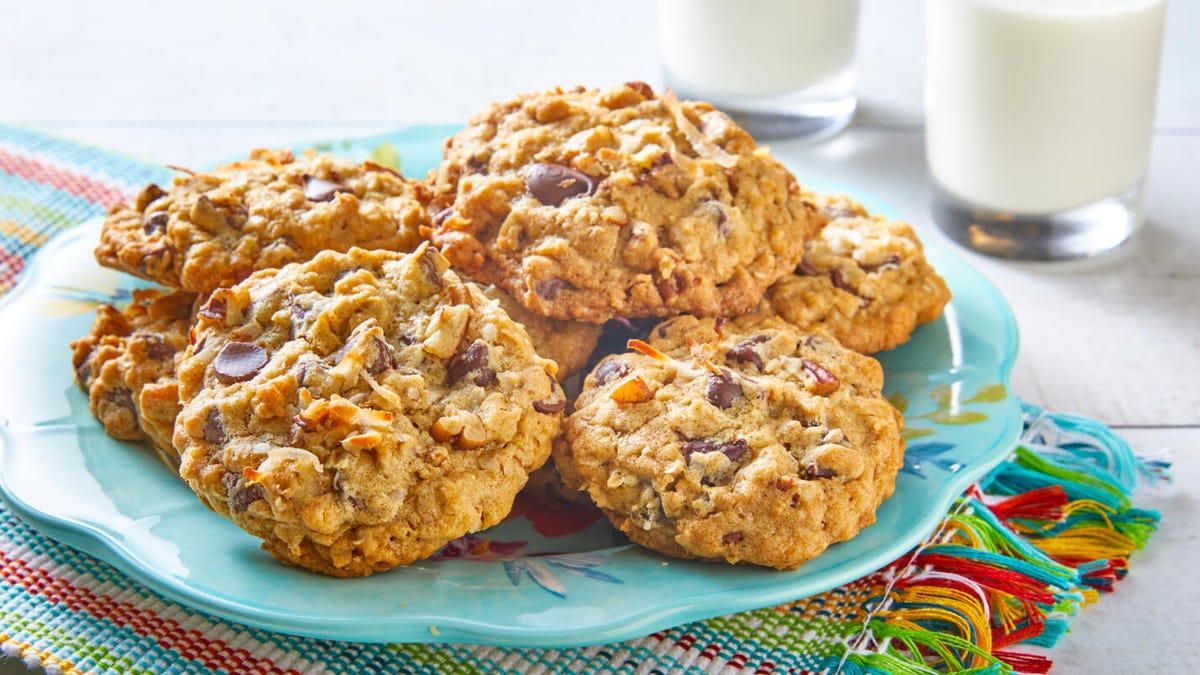 Crinkle cookies, cake mix, sugar, or classic chocolate chip—it's hard to think of a Pioneer Woman cookie recipe that we don't love! Go ahead and add cowboy cookies to this list. They're a riff on the classic chocolate chip cookie with hearty mix-ins, which means they're moist, chewy, and loaded with gooey chocolate. Saddle up and bring them to your next bake sale or bake 'em for a special after-school-snack for the kids. These loaded cookies are seriously irresistible!
Why are they called "cowboy cookies"?
These cookies were made famous by former First Lady Laura Bush, who submitted them for a baking contest during the 2000 presidential election. Her Texas-sized, cowboy cookies beat out her competitor Tipper Gore's ginger snap recipe, and they began their road to fame from there!
What ingredients are in cowboy cookies?
Cowboy cookies start with the base of a chocolate chip cookie; from there, you add bonus ingredients like oats, pecans, coconut, and cinnamon. Our recipe starts by browning some of the butter to add even more toasty, nutty flavors and make an easy-to-scoop cookie dough. 
What other mix-ins can you add to cowboy cookies?
This recipe sticks with the classics, but you can certainly customize them to your liking! Use peanuts or walnuts instead of the pecans or even try them with candied pecans mixed in. You could also swap half of the chocolate chips for white chocolate chips.

How long do you bake cowboy cookies?
These cookies are sized for a larger appetite, rolled into about 2 tablespoon sized balls before baking. That said, they take a bit longer than a classic chocolate chip cookie to bake, around 12 to 14 minutes per tray. One of the best parts about this cookie dough is that there's no need to wait for this dough to chill in the fridge. This helps this larger cookie bake evenly and quickly!
What's the best way to store cowboy cookies?
Store the baked cookies in an airtight container or zip-up bag at room temperature to stay fresh for 3 to 4 days. You can also store the baked cookies in your freezer for about a month. Another trick is to store the unbaked dough in your freezer for freshly baked cookies on the fly. Simply portion the dough into balls and place them on a parchment lined baking sheet. Place the baking sheet in the freezer until the dough balls are individually frozen solid. Then, you can transfer the balls to a zip-up bag. When you get a hankering for one or two, simply bake as directed, adding a few minutes to the cook time, if needed.
Advertisement - Continue Reading Below
Ingredients
1 c.

salted butter, divided

1 c.

packed brown sugar

1/2 c.

granulated sugar

2

large eggs

2 tsp.

vanilla extract

2 c.

all-purpose flour

1 tsp.

baking soda

1/2 tsp.

ground cinnamon

1 1/2 c.

old-fashioned rolled oats

1 c.

chopped pecans

1 c.

coconut flakes

2 c.

chocolate chips

Flaky salt, for sprinkling
Nutrition Information
Per Serving (Serves 36)

Calories

221

Fat

12 g

Saturated fat

7 g

Trans fat

0 g

Cholesterol

26 mg

Sodium

108 mg

Carbohydrates

24 g

Fiber

2 g

Sugar

17 g

Protein

3 g

Vitamin D

0 mcg

Calcium

28 mg

Iron

1 mg

Potassium

59 mg
Directions
Step 

1

In a medium saucepan, brown 1/2 cup of butter by melting it over medium heat, then letting it cook and bubble for an additional 3 to 5 minutes, or until the foam and butter underneath is golden brown. Immediately transfer it to a large, heatproof mixing bowl and swirl a few times to help stop the browning. Let it cool to room temperature, about 30 minutes. Meanwhile, allow the remaining 1/2 cup of butter to soften.

Step 

2

Preheat the oven to 350˚F.

Step 

3

To the browned butter, add the softened 1/2 cup of butter, brown sugar, and granulated sugar. Using a stand or hand mixer, beat on medium-high speed until the mixture has lightened in color and texture, 2 to 3 minutes. Reduce the mixer speed to low. Add the eggs and vanilla, and beat until smooth, scraping the sides and bottom of the bowl as needed.

Step 

4

In another medium bowl, whisk to combine the flour, baking soda, and cinnamon. Add the flour mixture to the butter mixture in 3 parts, mixing on low speed until fully incorporated after each addition. Scrape the sides and bottom of the bowl as needed. Add the oats, pecans, coconut flakes, and chocolate chips, and mix on low speed or stir with a spatula to combine.

Step 

5

Line two large baking sheets with parchment paper. Using a 2 tablespoon cookie scoop, drop cookie dough onto the baking sheet, leaving about 2 inches of space between each cookie. Bake for 12 to 14 minutes, or until golden brown and dry in appearance on top. Let the cookies cool for 2 minutes on the baking sheet, then transfer to a cooling rack to cool completely. Sprinkle with flaky salt.
Tip: You can also make these with 1 cup of softened butter and skip the step of browning butter!