Rainbow Fruit Breakfast Skewers
A sprinkled doughnut hole is the perfect touch!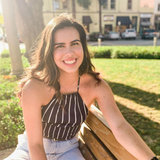 By Leah Perez
An entire rainbow of fresh fruit is threaded onto skewers and topped off with a fluffy donut. Served with a sweet tangerine and vanilla yogurt dip (or use oranges or mandarins!), this is a delicious way to fuel your day!
Advertisement - Continue Reading Below
Ingredients
1 c.

plain Greek yogurt

2 tbsp.

maple syrup

1 tsp.

vanilla extract

1 tsp.

tangerine zest

1

15-oz. package donut holes

1 lb.

strawberries, hulled

4

small tangerines, peeled and segmented into groupings of 2

1

small pineapple, peeled and cut into 1-inch cubes

3

kiwis, peeled and sliced into 1/2-inch thick half-moons

1/2 c.

blueberries

1/2 c.

red grapes
Nutrition Information
Per Serving (Serves 16)

Calories

189

Fat

7 g

Saturated fat

3 g

Trans fat

0 g

Cholesterol

10 mg

Sodium

94 mg

Carbohydrates

26 g

Fiber

3 g

Sugar

18 g

Protein

4 g

Vitamin D

0 mcg

Calcium

64 mg

Iron

1 mg

Potassium

207 mg
Directions
Step 

1

In a medium bowl, combine the Greek yogurt, maple syrup, vanilla, and tangerine zest. Spoon the mixture into a serving dish and chill until ready to use.

Step 

2

To assemble the skewers, use 16 (12-inch) wooden skewers. Onto each skewer, thread 1 donut hole, 1 hulled strawberry, 1 tangerine segment, 1 pineapple cube, 1 kiwi slice, 2 blueberries, and 2 red grapes in that order. Repeat with the remaining fruit and donuts. 

Step 

3

Serve chilled with the yogurt dip.
Tip: Go to your local donut shop and get different flavored donut holes: glazed, rainbow sprinkle, and of course, chocolate!