Welcome to Sister House!
Where no boys can have opinions! 😂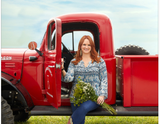 By Ree Drummond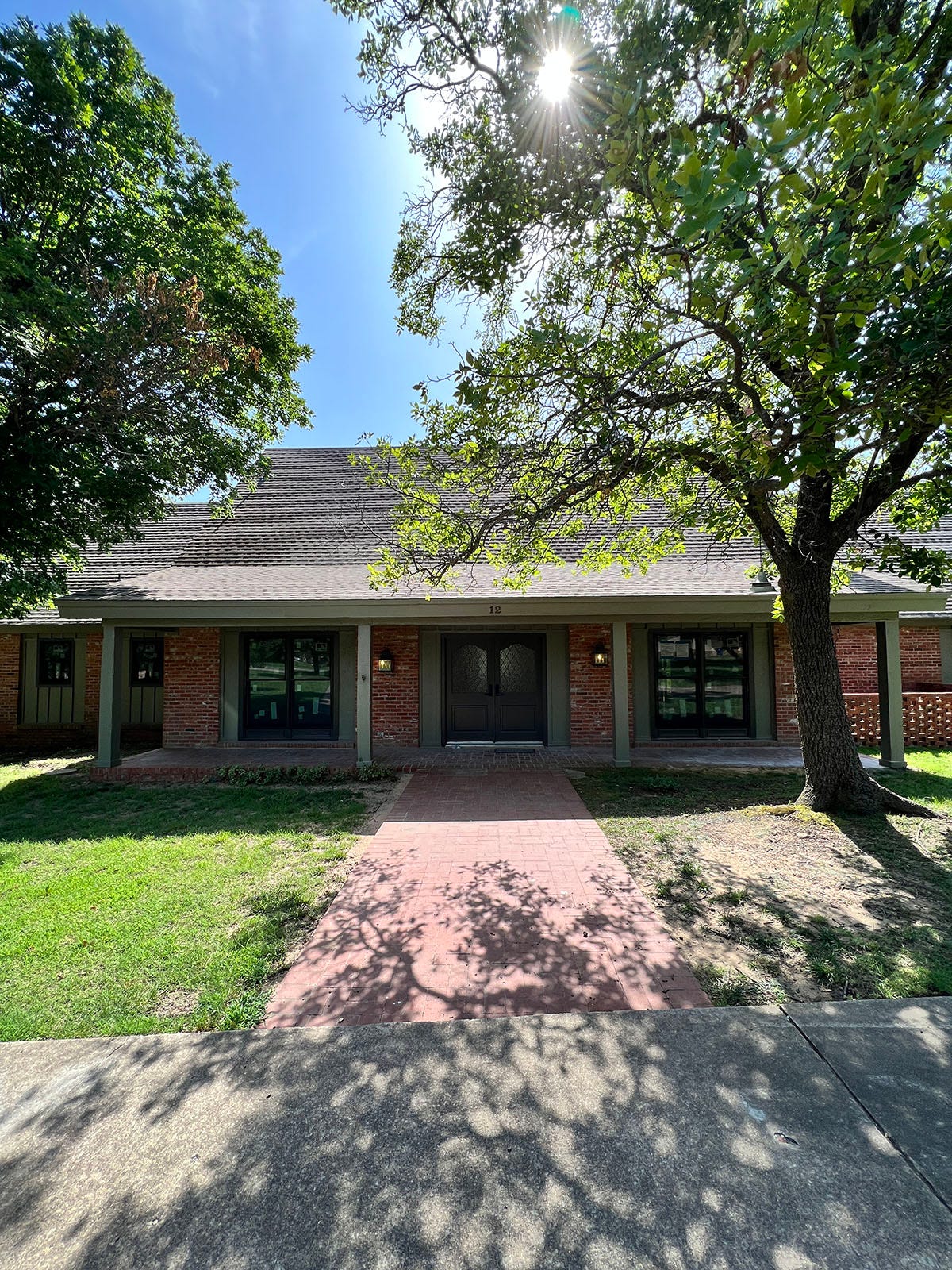 Ree Drummond
My sister Betsy lives in Seattle. She didn't get to travel home to Oklahoma for a year-plus during the early pandemic days, and by the time Alex's wedding rolled around last year, she was ready for a nice, long visit! Long story short, that visit turned into more visits through last summer, and by fall she was spending lots of time here. And I got to see my nephew, Elliot, a lot more---I missed him!

Another long story short: last fall Betsy and I decided to buy a house together in Pawhuska and fix it up so that she'd have a home base here in Oklahoma whenever she visits. It'll double as an extra place in town for friends and family (and film crews!) to stay as needed, and over time we just started calling it "Sister House." That name has stuck!
Here are some glimpses inside! We'll keep you posted as we get things finished over the next couple of weeks.
1
The Front Door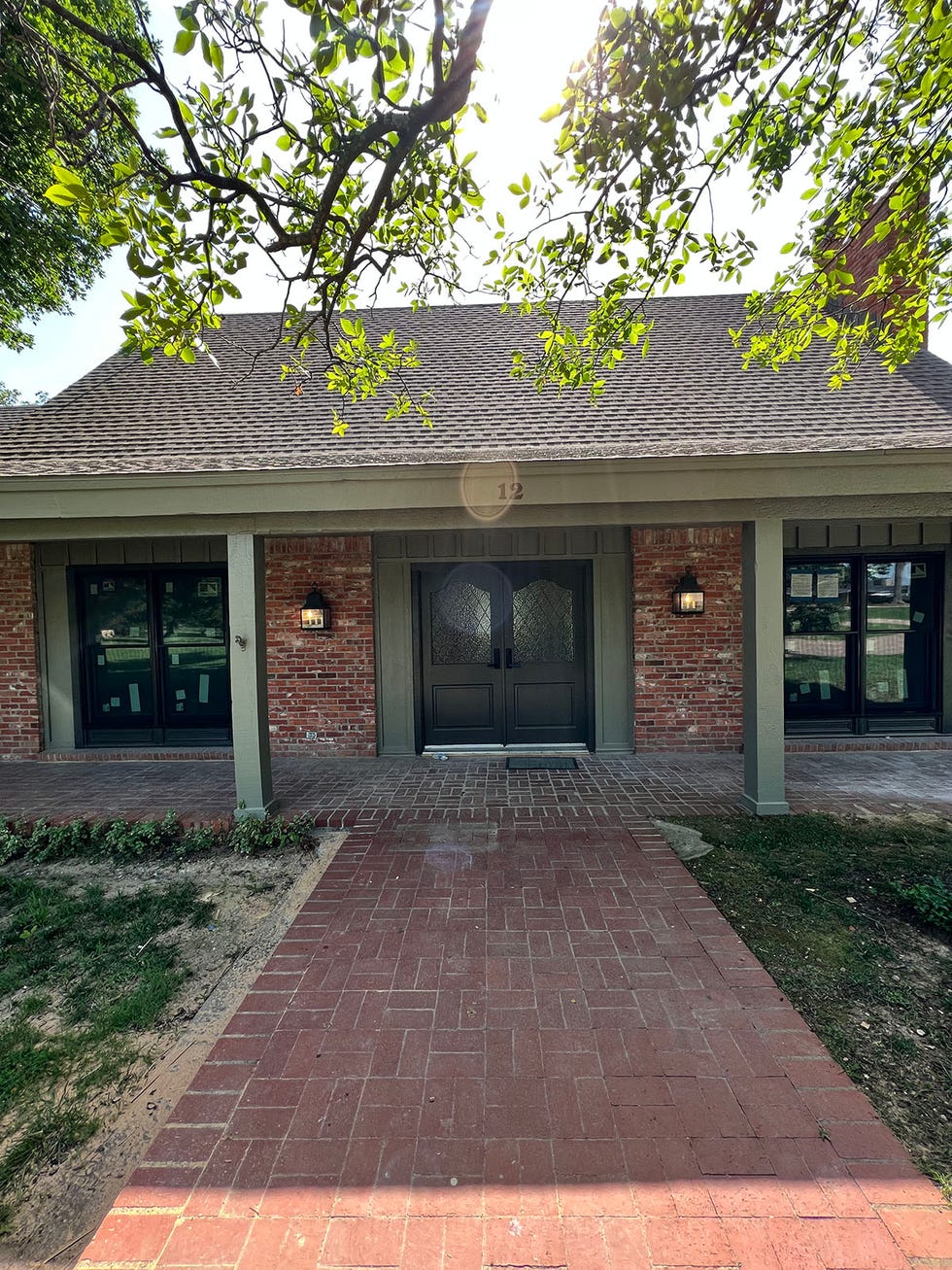 Ree Drummond
Here's the front of the house! We stayed pretty true to the original, as we didn't want to make any sweeping changes (like painting the brick white) that might be jarring to the sweet, quiet neighborhood. We have some landscaping to do and want to paint the front door a neat color. Any ideas?

2
A New Doorway!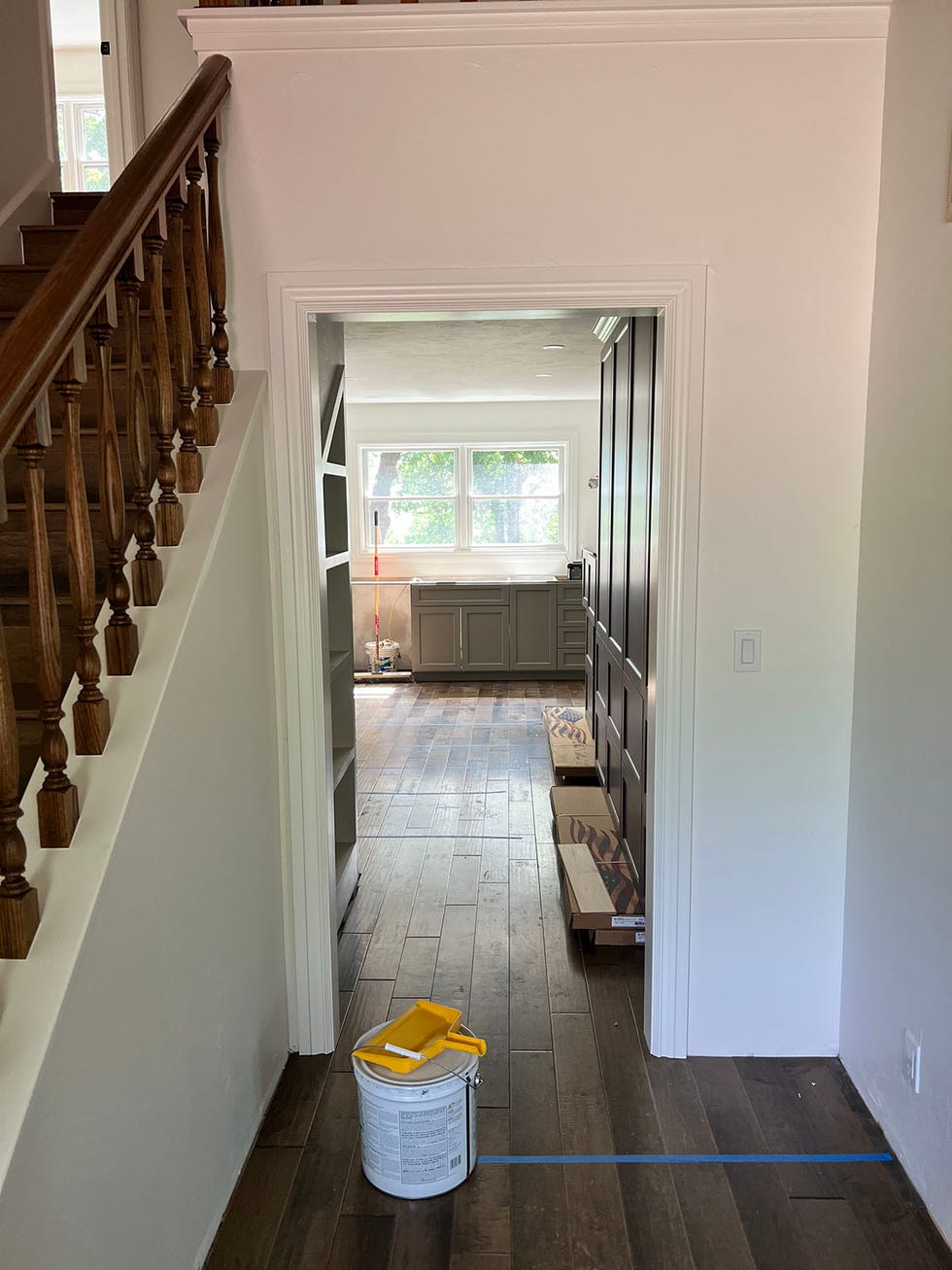 Ree Drummond
This is the entrance to the house, and it's especially fun because this is a new doorway that wasn't there before! It was previously a coat closet, but we busted through and made this a walkway to the kitchen. There's so much more light than there was before!

3
The Family Room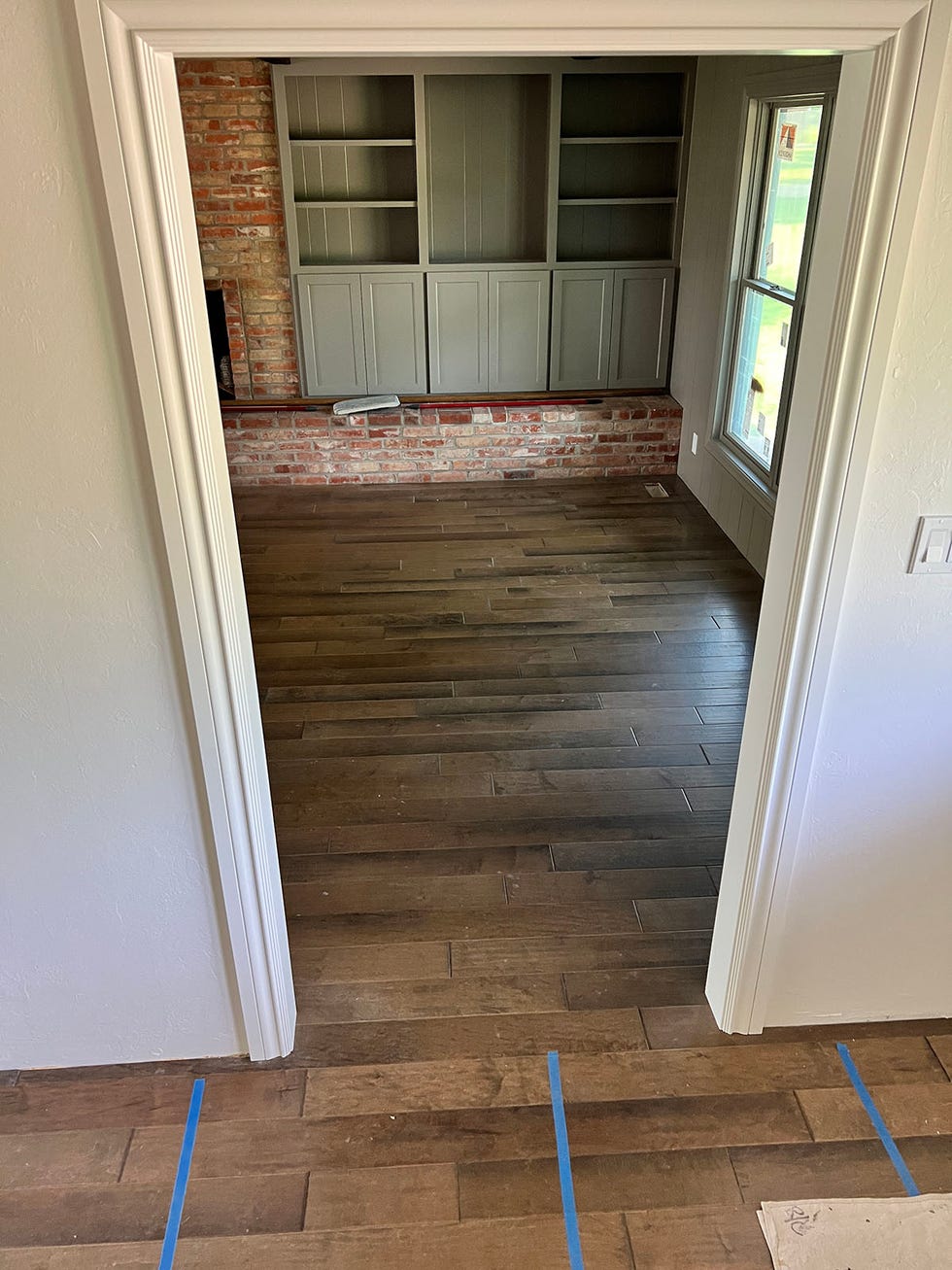 Ree Drummond
We kept the fireplace and old built-ins the house already had, but added doors on the lower cabinets and gave the built-ins a fresh coat of paint. This'll be a nice, cozy room!

Advertisement - Continue Reading Below
4
The Stairs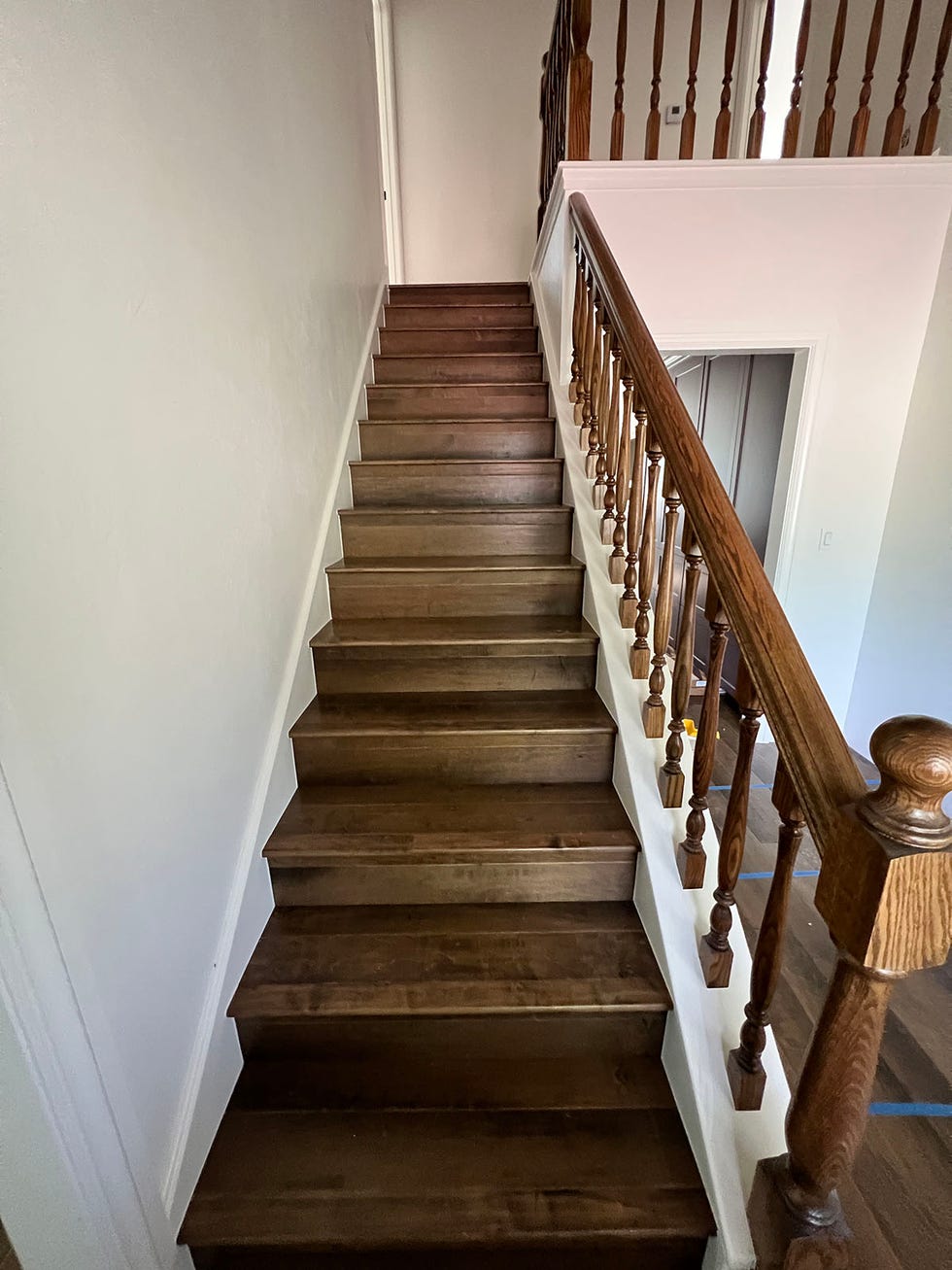 Ree Drummond
We had to replace the stair railing and went with the traditional look. There were lots of ways we could go here, including a contemporary black/iron railing...but we wanted to keep it homey and traditional. We have a pretty runner for the stairs. It's kinda pink!
5
Under Stair Shelves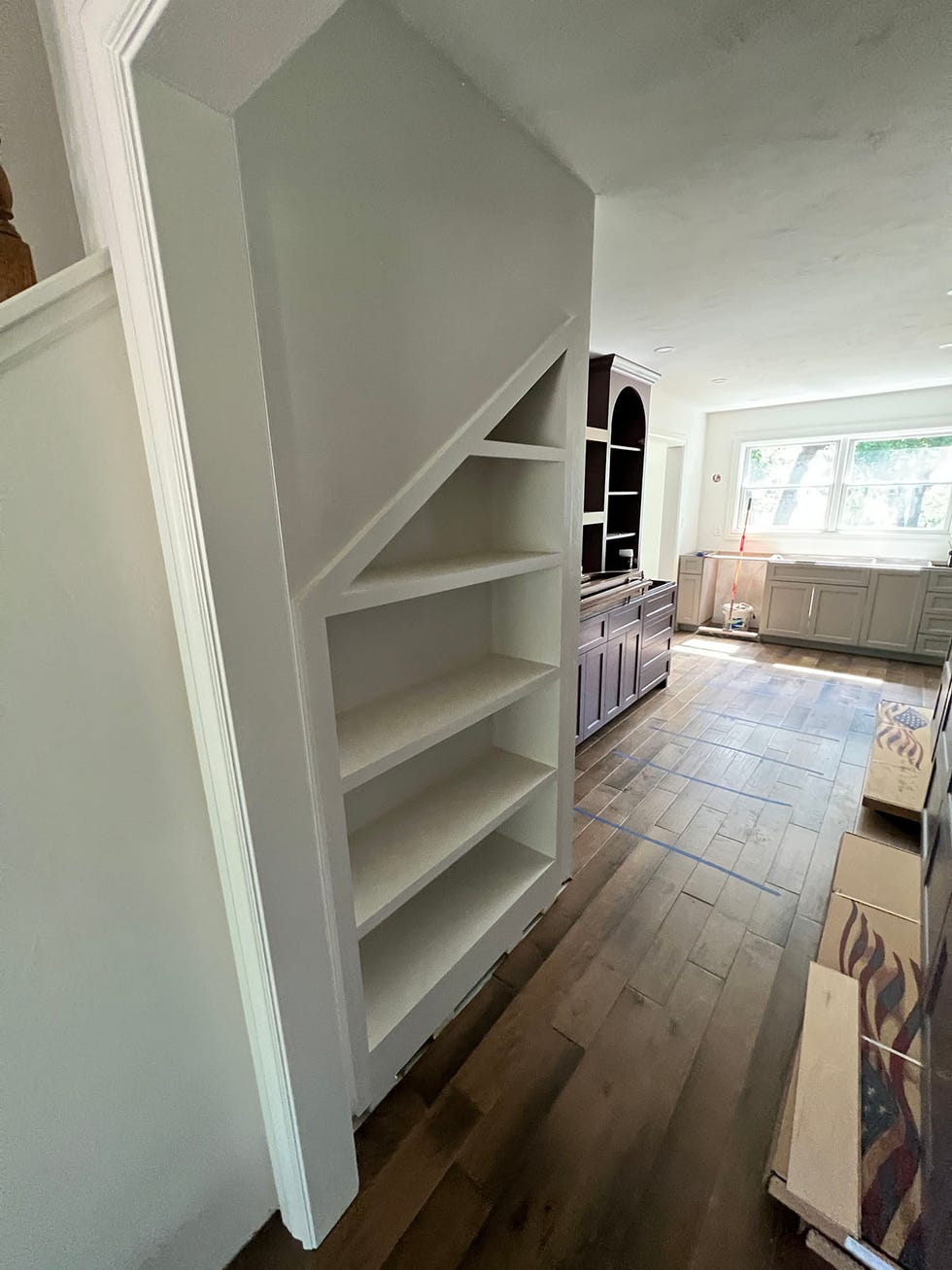 Ree Drummond
We had this awkward space under the stairs that we considered turning into a hidden room, hidden dog room, or hidden wine cellar...but we don't need to hide, Betsy doesn't have a dog, and we aren't wine connoisseurs, ha! So we just added shelves for cookbooks and things.

6
The Dining Room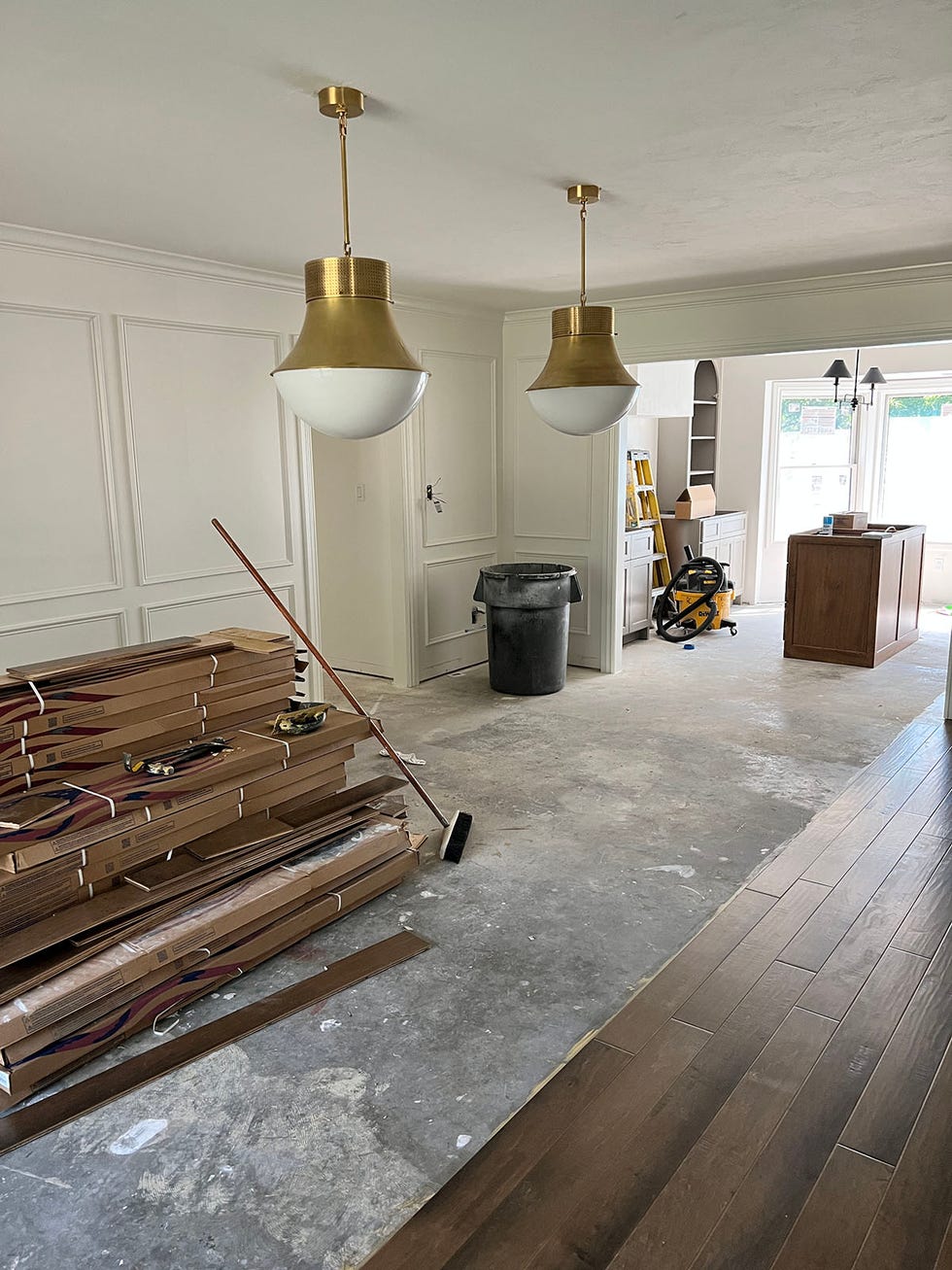 Ree Drummond
On the other side of the stairs is the dining room, which used to be a living room! We added simple paneling to the walls and love the lightness and brightness of the soft white paint. Cortney McClure in Bartlesville, Oklahoma helped us with furnishings and fixtures, and I love these pendants!

Advertisement - Continue Reading Below
7
Cabinet Doors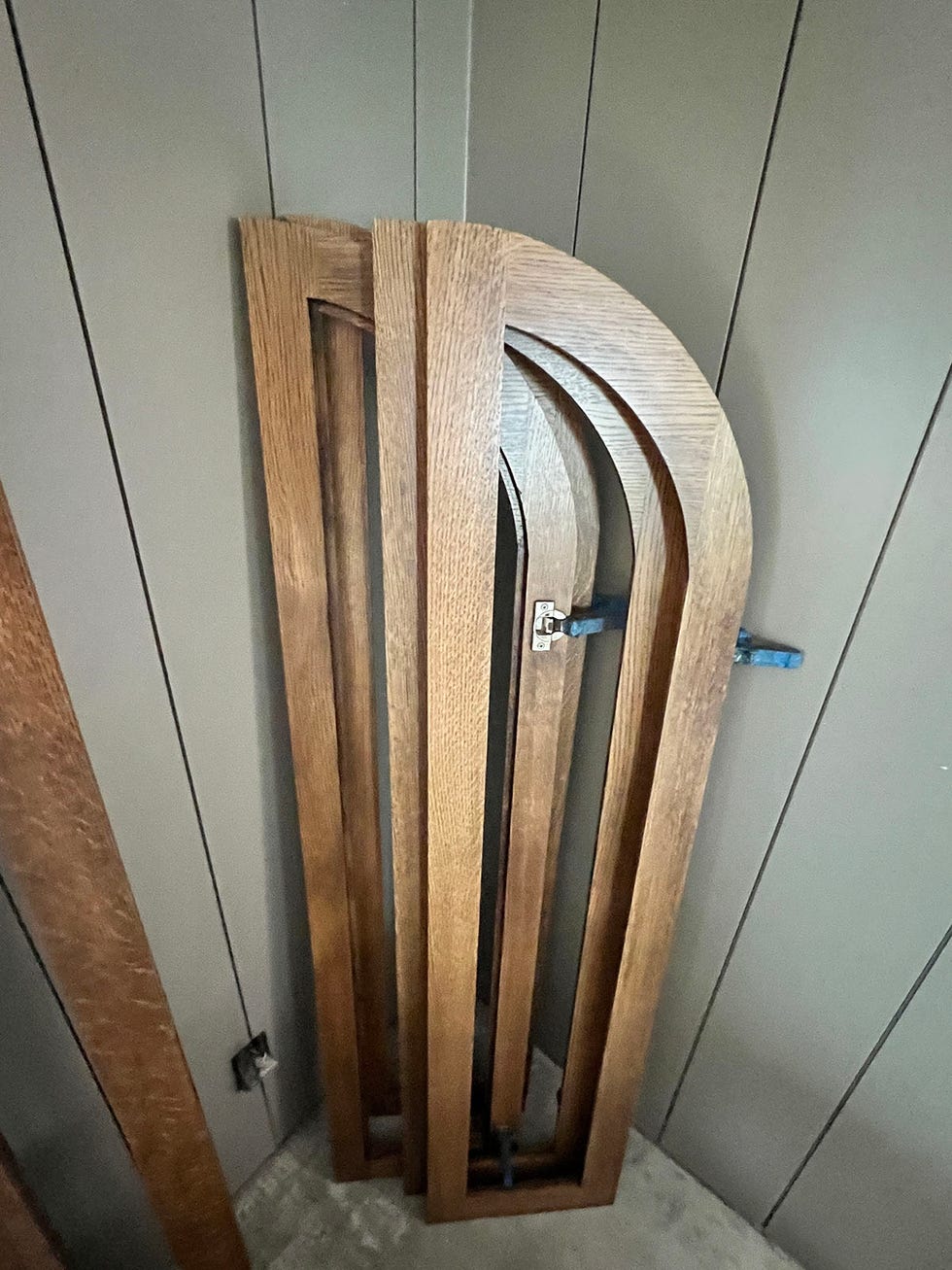 Ree Drummond
We have a couple of glass-front cabinets in the kitchen, and these are the doors. I love the curved profile and the quarter-sawn oak. To me, quarter-sawn oak always looks older and more "vintage" than regular oak. It's also pricier, so we just used it for a few touches here and there.

8
The Old Upstairs Study!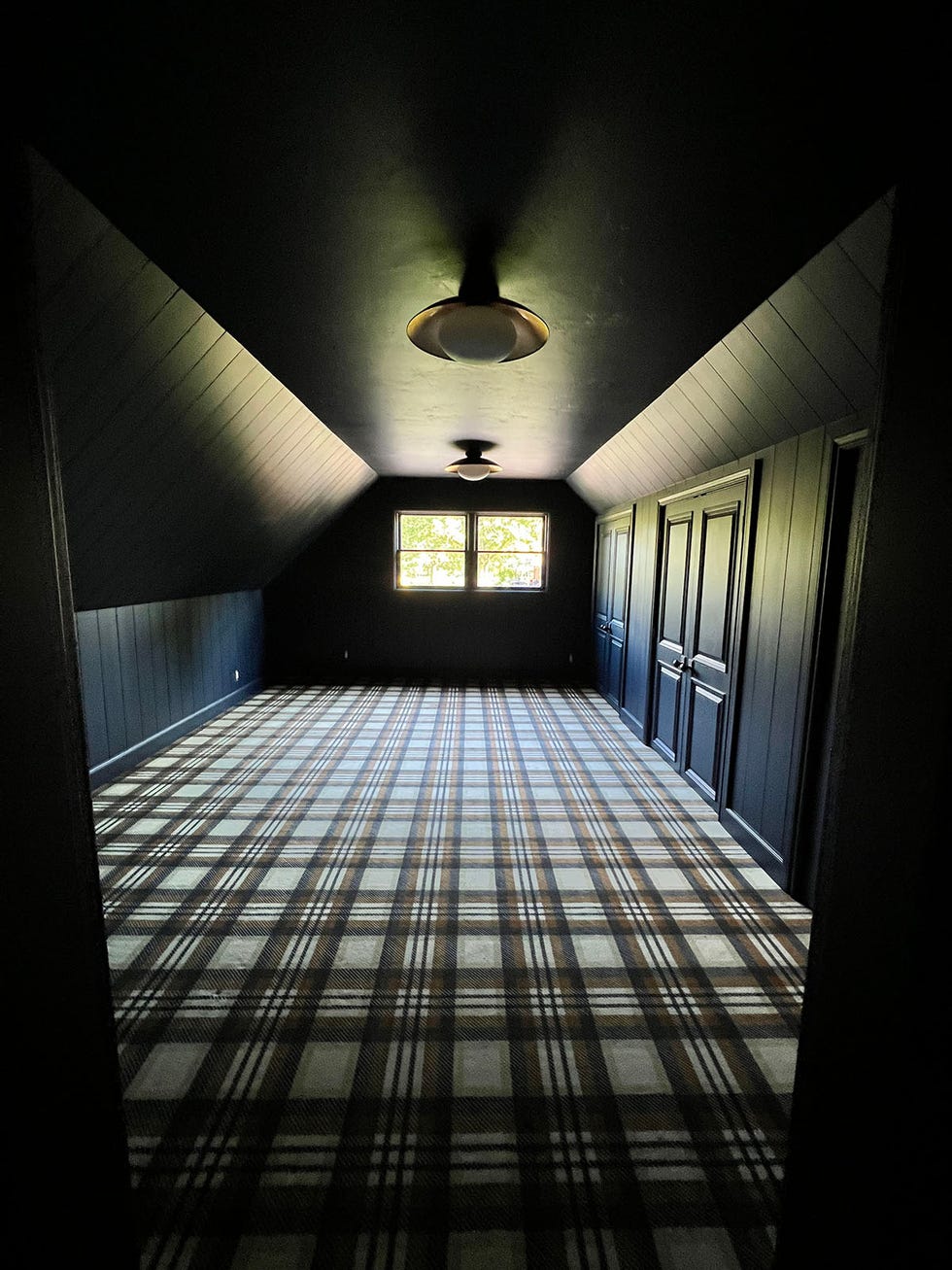 Ree Drummond
This is probably my favorite room in the house. Cortney, Betsy, and I were all in agreement that the old (circa 1980) plaid carpet needed to stay, and Cortney suggested choosing a super dark navy to coordinate with the colors of the plaid. I absolutely love this room, which is off of Elliot's bedroom. Great place to hang and watch old 80's movies!

9
Everything is Dark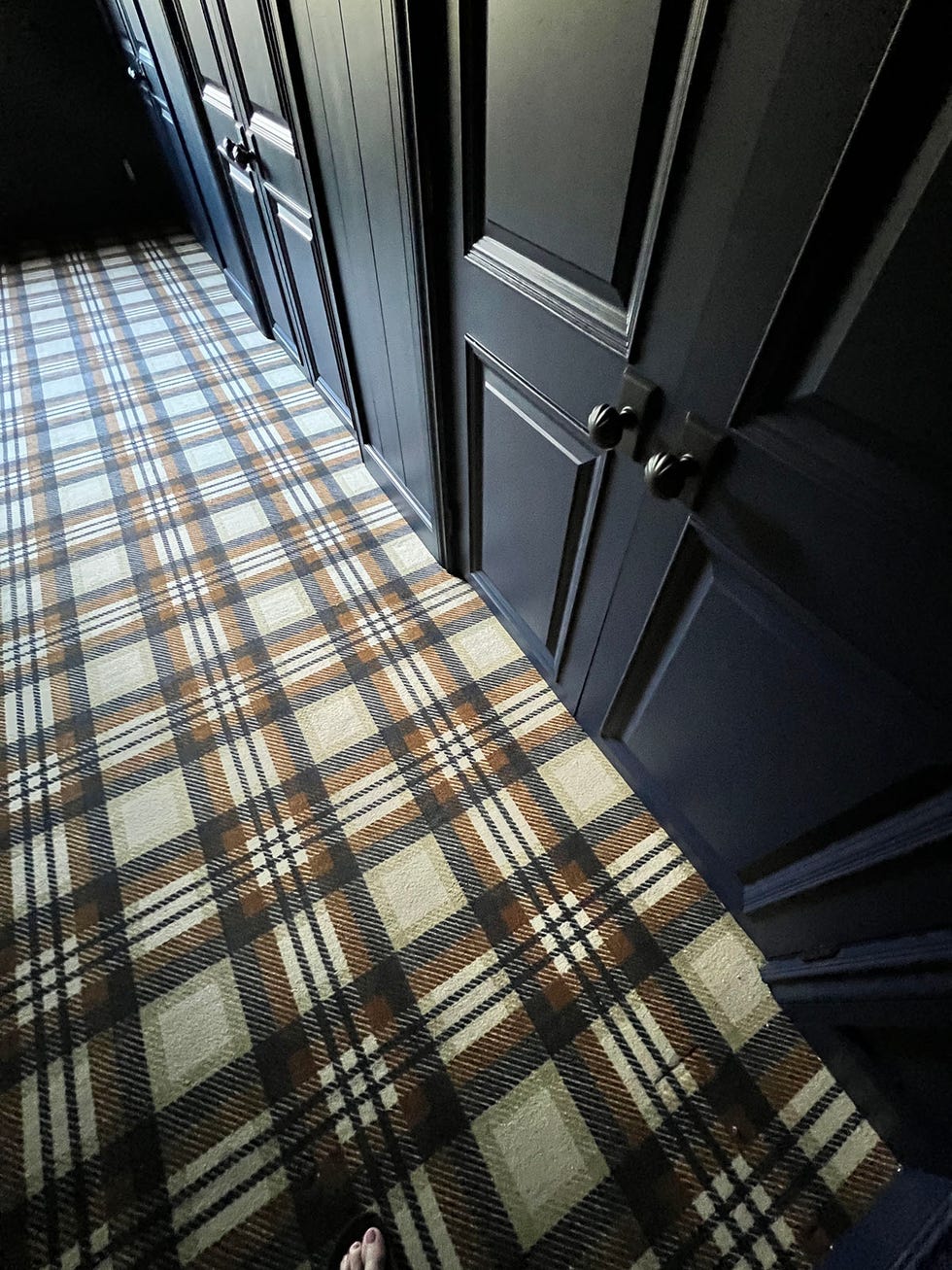 Ree Drummond
The secret to going with a dark, moody color like this is to go all in: walls, doors, trim, even ceiling! And can we talk about the great shape this old carpet is in? I think we should get it cleaned just in case, haha, but it was so well taken care of through the years.

Advertisement - Continue Reading Below
10
The Light, Bright Version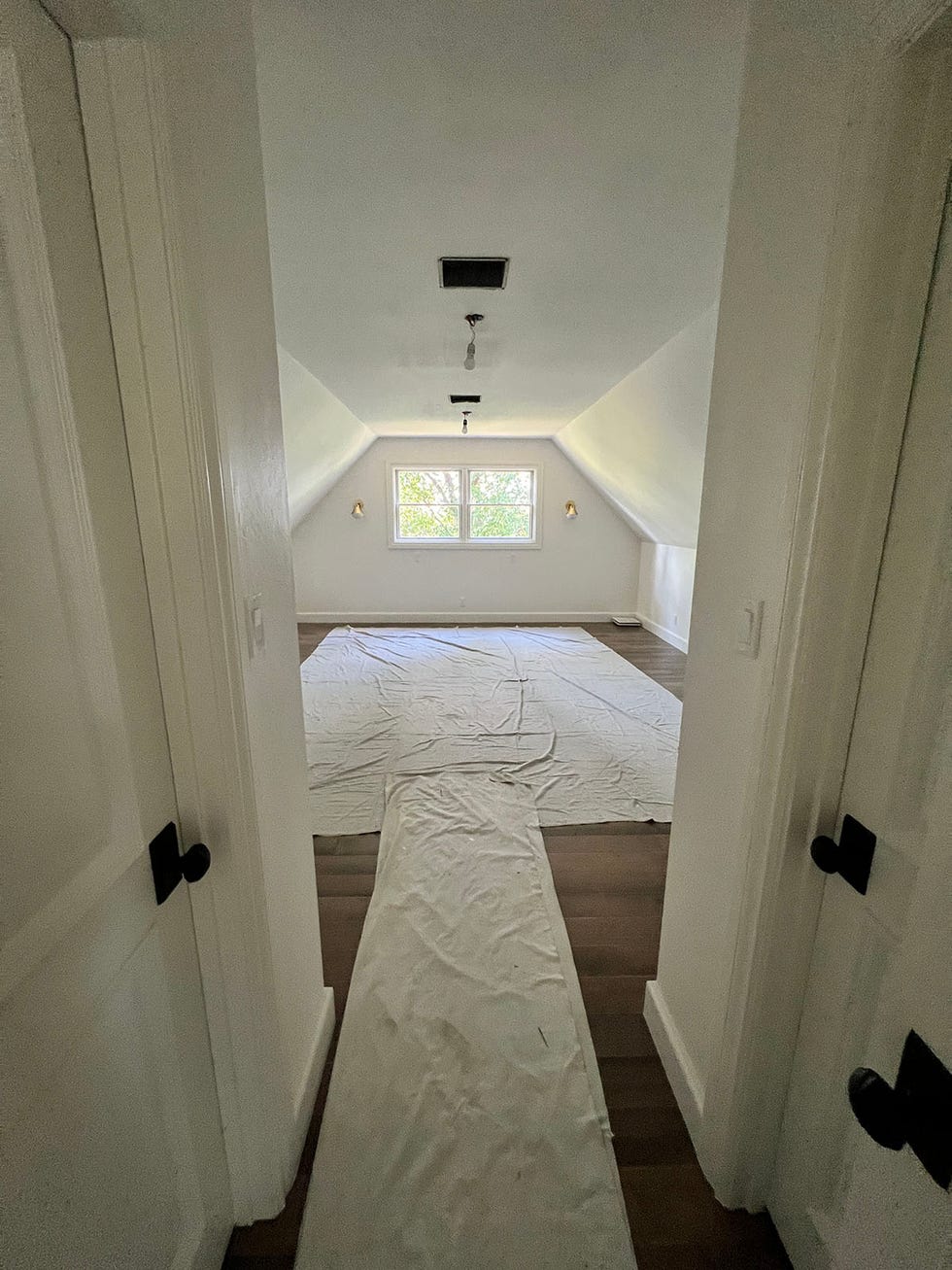 Ree Drummond
This is the corresponding bunk space on the other side of the upstairs. We're keeping it bright and light, and Cortney had the idea of wallpapering the ceiling and upper part of the walls. Will keep you posted on that!
11
Pretty and Predictable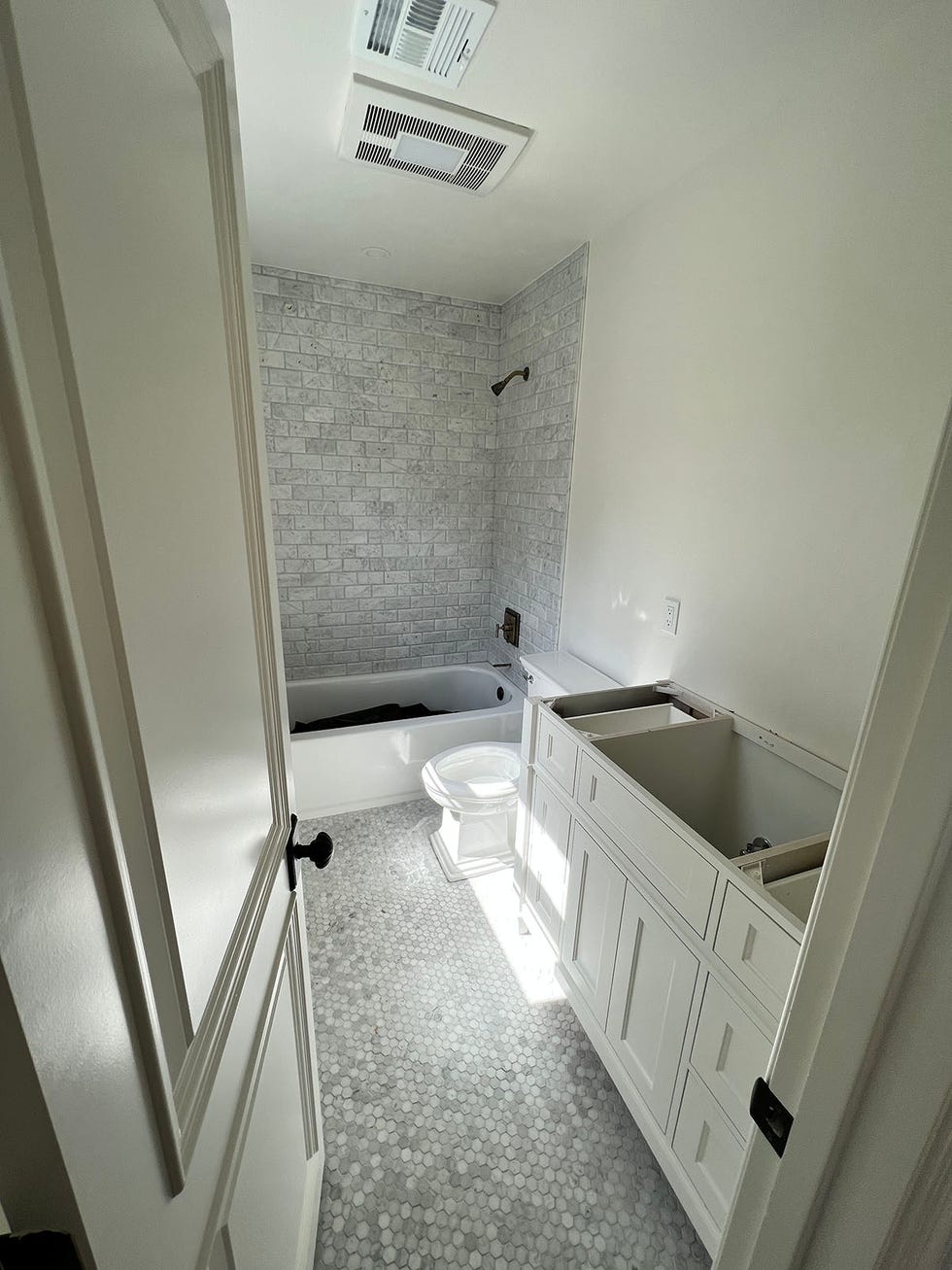 Ree Drummond
For one of the bathrooms upstairs, we went with white/grey marble and white cabinets. A little of a safe choice, but we like it a lot...and there are plenty of non-white spaces around the house to add some color and fun!


I'm a desperate housewife, I live in the country, and I'm obsessed with butter, Basset Hounds, and Ethel Merman. Welcome to my frontier!