Harvest Bowls
The perfect healthy lunch, all in one bowl!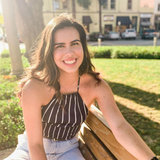 By Leah Perez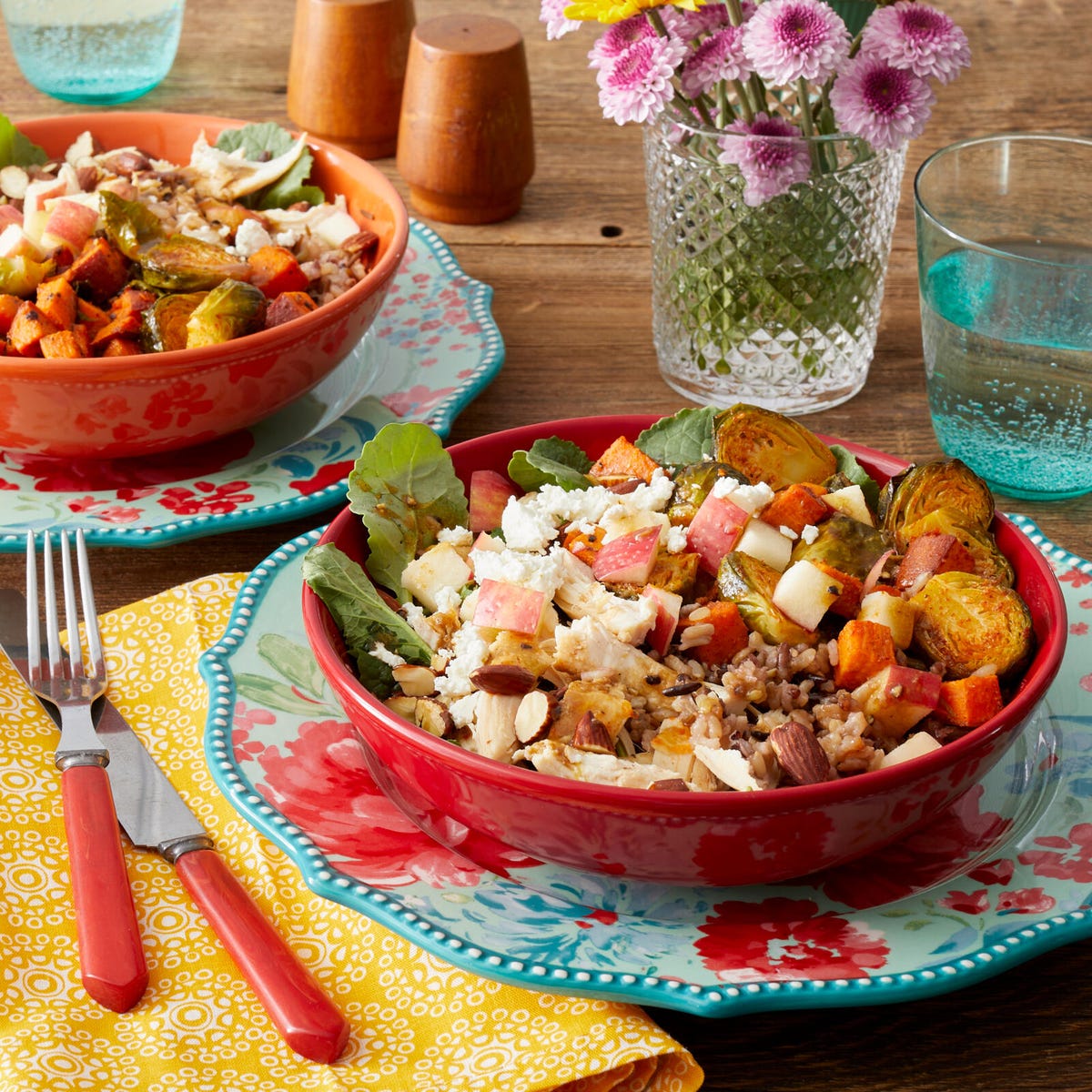 Danielle Daly
Inspired by the fast-casual spots that are ruling the lunch crowd, these harvest bowls are a delicious way to pack lunch for the week! It is not only a more economical way to eat, there is also so much more room for variation. Think of this as a template for the healthy lunch of your dreams! It's one of those lunches that you can't stop thinking about, and might sneak a taste of at 10 in the morning. It would also make an immensely satisfying healthy dinner with the tender chicken, colorful veggies, hearty grains, and cheese!
What is in a harvest bowl?
This harvest bowl features layer upon layer of texture and flavor! The base is a wild rice blend cooked in flavorful broth. Baby kale makes this feel more like a salad grain bowl, and superstar fall vegetables like sweet potato and Brussels sprouts lend their sweet, roasted goodness to the dish. Tender chicken, crunchy apples, tangy goat cheese, and chopped almonds top the bowls, and a homemade balsamic vinaigrette finishes it off.
What else can you use to make a harvest bowl?
Don't be afraid to make substitutions! The wild rice can easily be swapped for brown rice, white rice, farro, quinoa, or couscous. Just be sure to follow the liquid amounts and timing on the package. Instead of baby kale, try chopped regular kale, spinach, or spring greens. If you're a fan of butternut squash and broccoli, use those in place of the sweet potato and Brussels sprouts. Apples can be traded for pears, goat cheese for feta, and almonds for pecans. The possibilities are endless!
Is there meat in a harvest bowl?
This recipe calls for one rotisserie chicken, one of the best kitchen shortcuts. Leftover roast pork, drained and rinsed canned beans, or even popcorn chicken can be tossed in for some protein.
Advertisement - Continue Reading Below
Ingredients
For the bowls:
1 1/2 c.

wild rice blend

2 2/3 c.

chicken broth

2 tbsp.

unsalted butter

1 1/2 tsp.

kosher salt, divided

1 lb.

Brussels sprouts, trimmed and cut in half

2

small sweet potatoes, cut into 1/2-inch cubes

2 tbsp.

olive oil

1 tsp.

ground black pepper

1 tsp.

garlic powder

1 tsp.

paprika

1/4 tsp.

cayenne

1

rotisserie chicken, about 2 pounds

2 c.

fresh baby kale

1

Honeycrisp apple, cored and cubed

1/2 c.

crumbled goat cheese

1/4 c.

roasted, salted almonds, coarsely chopped
For the balsamic vinaigrette:
3 tbsp.

balsamic vinegar

2 tsp.

honey

2 tsp.

Dijon mustard

1

garlic clove, grated

1/4 tsp.

kosher salt

1/4 tsp.

ground black pepper

1/3 c.

olive oil
Nutrition Information
Per Serving (Serves 4)

Calories

1130

Fat

66 g

Saturated fat

18 g

Trans fat

0 g

Cholesterol

146 mg

Sodium

1359 mg

Carbohydrates

73 g

Fiber

12 g

Sugar

19 g

Protein

53 g

Vitamin D

0 mcg

Calcium

178 mg

Iron

6 mg

Potassium

1512 mg
Directions
Step 

1

For the bowls: Preheat oven to 450°F.

Step 

2

Place the rice blend in a fine mesh sieve. Rinse the rice under water, using your hand to move the rice around for about 1 minute. Place the rice in a medium saucepan with the broth, butter, and ½ teaspoon of salt. Bring the mixture to a boil over medium-high heat. Reduce the heat to low, cover, and cook until the rice is tender, 45 minutes. Remove the pot from the heat and keep the rice covered for another 15 minutes. Fluff the rice with a fork.

Step 

3

Meanwhile, line a large baking sheet with foil. Add the Brussels sprouts and sweet potato. Drizzle the vegetables with the olive oil, tossing to coat. Sprinkle with the remaining 1 teaspoon of salt, pepper, garlic powder, paprika, and cayenne, tossing to coat. Roast until the vegetables are tender and browned, about 25 minutes, stirring halfway through.

Step 

4

For the balsamic vinaigrette: In a mason jar, add the balsamic vinegar, honey, mustard, garlic, salt, and pepper. Place the lid on the jar and shake vigorously until the ingredients are well combined, about 15 seconds. Add the olive oil and shake the closed jar again until the dressing is well emulsified. Store in the refrigerator and shake well before using.

Step 

5

Remove the skin and bones from the chicken. Shred or cut the meat into cubes, as desired.

Step 

6

To serve: Divide the baby kale among four bowls. Spoon on the wild rice and divide the Brussels sprouts, sweet potato, chicken, apple, goat cheese, and almonds. Drizzle with the balsamic vinaigrette.